---
SIN CITY: A DAME TO KILL FOR RED BAND TRAILER
---
30th July 2014 10:00am
Fans have been waiting nine years for Robert Rodriguez and Frank Miller's follow-up to 2005′s blistering adaptation of Miller's
Sin City
graphic novel series, a movie Roger Ebert described as
"a convention at the movie museum in Quentin Tarantino's subconscious."
The movie was every bit as hyper-stylized as the source material, an apologetically twisted and violent comic book film.
We've already seen
two trailers
for
Sin City: A Dame to Kill For
,
which finds Rodriquez and Miller together again, and pulling no punches the second time around. Set both after and before the first movie, the sequel finds a roster of actors chewing the digital scenery with gusto,
This new look (set to "Babes" by Icky Blossoms) is slightly longer than the previous two, with the narrative threads connecting the prequel elements to events that take place in the wake of Hartigan's (Bruce Willis) death and placing Alba's Nancy front and center during portions of the film are still a bit murky. It does feature both Miller and Rodriguez in cameos as actors in a noir flick Nancy watches on TV, helpfully reminding viewers how poisonous Basin City is.

What this new trailer does have are lingering shots of the the trademark over-the-top violence fans of the original were expecting to see in A Dame to Kill For, from arrows through heads to severed hands, not to mention far more skin – this time courtesy of the slinky Ava (newcomer Eva Green).

Sin City's hyper-noir plot, proudly basic character tropes and ultra-stylized violence won over niche fans, critics and audiences the first time around and so far there's nothing in what we've seen in the gonzo sequel to suggest that A Dame to Kill For won't do the same. Stay tuned for the PR machine to kick into a new gear in the run-up to its release.

Sin City: A Dame to Kill For will open in U.S. theaters on August 22nd, 2014.


More great articles at screenrant.com
---
LATEST TV & MOVIE NEWS

---
---
---
---
---
---
---
---
LATEST MOVIE REVIEWS

TOP ARTICLES ON OUR BLOG

JOIN OUR COMMUNITY

Powered by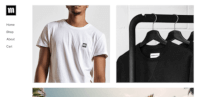 Create your own unique website with customizable templates.