ARE YOU BORED OF OUR LOCAL ENTERTAINERS FREQUENT NUDITY

---
Showing a little skin has been ordinarily one of the quickest way for any upcoming entertainer whether an actor, actress, musicians or even socialites to get attention. As shocking and outrageous as it may appear showing off some skin does provoke an aggressive reaction from the public whether good or bad and a good example for that particular study are our local socialites.

What happened to the days when showing off even a little skin was something which was left for the private room in our houses, one would ask, call them old skull but that's how they view it and they have the right to express their opinions, nowadays its seems that we are more obsessed in seeing Huddah, Vera or any other entertainer for that matter showing off a bit of skin, it seems the art that one posses is now being over looked as long as you can show off a bit of your goodies.

On the one hand, it's easy to see where the people who are complaining about this whole issue are coming from.

But what are some of the reasons which make some of this entertainers approach fame in this manner you might ask yourself, well the main reason is because it offers an element of excitement to the public as it's something new, something we have not yet seen, it's random and most importantly it's out of the blues.
When all is said and done it's still hard to criticize most of this entertainers who tend to attain fame by posing nude pictures of themselves on-line as it has been the case in the past few months, if we are to look at it from a different angle we the public are the ones to blame as we tend to find our self in situations where we want to see huddah, Avril or Wahu (No, No, No, not Wahu, she is good, Pendo will do) in that tight skirt or fully nude, and when they don't we again criticize them for being too irrelevant and not being in the daily entertainment news.

But what do you think about this whole nudity thing, is it good for our entertainment scene, let us know in the comment section below……
---
---
LATEST TV & MOVIE NEWS

---
---
---
---
---
---
---
---
LATEST MOVIE REVIEWS

TOP ARTICLES ON OUR BLOG

JOIN OUR COMMUNITY

Powered by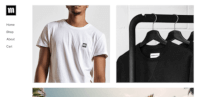 Create your own unique website with customizable templates.