---
ANNA PAQUIN TO APPEAR IN X-MEN DAYS OF FUTURE PAST

16th April 2014 3:00pm Published By Catherine Edwards @cate_obat
---
Yes guys, Rogue will be back for X-Men Days of Future past, although he was not seen in the trailer, Anna Paquin, who plays Rogue in the film was named in the credits.

Fox also confirmed the same news with Buzzfeed, a studio representative of Fox told the entertainment website that the actress will be reprise her role i the upcoming film.

RELATED PICS: X-Men: Days of Future Past Set Photos
This may come as a surprise to many fans of the film franchise, given that last year December there were rumors that the actress won't be featuring in the new in the sequel.

The movie will which is due to be premiered on May 23, 2014, will see Wolverine played by Hugh Jackman being sent to the past in a desperate effort to change history and prevent an event that results in doom for both humans and mutants.
TRENDING ARTICLES

---
LATEST TV & MOVIE NEWS

---
---
---
---
---
---
---
---
LATEST MOVIE REVIEWS

TOP ARTICLES ON OUR BLOG

JOIN OUR COMMUNITY

Powered by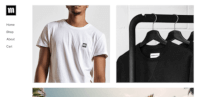 Create your own unique website with customizable templates.